With the exception of the distinct lack of quality horror, it's been another good year for films.  As ever, I had quite a bit of trouble honing this list down to just ten, so I'll start off with a few honourable mentions (in no particular order) that only just missed or weren't far off the cut before we get down to the real thing.  Without further ado…
The Fault In Our Stars Men, Women & Children (yes, I really liked it) The Wolf Of Wall Street Dallas Buyers Club 12 Years A Slave The Homesman The Hunger Games: Mockingjay Part 1 Captain America: The Winter Soldier Oculus How To Train Your Dragon 2 The Guest Edge Of Tomorrow Cold In July The Raid 2: Berandal Inside Llewyn Davis
10. BEGIN AGAIN
A celebration of music, family and friendship told with real heart and soul, Begin Again was one of those films you get a few times a year which just crops up out of nowhere and leaves a huge impact.  Ruffalo and Knightley have great chemistry as two lost souls finding solace through a shared love of music, and the soundtrack has some cracking songs.  Effortlessly cool, ceaselessly feel-good.
Watch the trailer
9. LONE SURVIVOR
A lot of people got cross with Lone Survivor for being jingoistic, but while there's certainly an element of flag waving going on, it really didn't bother me because the rest of it is so brilliant.  Peter Berg's true story of four US soldiers caught in one-sided firefight with the Taliban is a genuine achievement in action cinema.  There haven't been war sequences more brutal and immersive since Saving Private Ryan, but even that begins to pale in comparison to certain moments of Lone Survivor's desperate battle scenes.  Vicariously sharing their experience, we feel every impact as they fall over cliffs, smash into trees and gasp for air.  A real bruising and brutal cinematic experience.
Watch the trailer
8. INTERSTELLAR
I wanted this to be my film of the year.  Everything was falling into place for it to be so: Chris Nolan was yet to disappoint me, the subject matter was close to my heart (I'm fascinated by space and time), Matthew McConaughey was now one of my favourite actors, and all the trailers just looked fantastic.  While it wasn't as utterly brilliant as my other-wordly expectations were hoping for, it was still a stunning piece of cinema.  Demanding at least to be seen on the big screen (if not a 70mm IMAX print), Interstellar is a big, bold, beautiful film to behold.  While there are faults present, it's the things that work which leave the biggest impression.  This is a film that will be discussed for years to come.
Watch the trailer Read my full review here
7. GUARDIANS OF THE GALAXY
"You said it yourself, bitch.  We're the guardians of the galaxy."  What more is there to say?  Ludicrously fun.
Watch the trailer Read my full review here
6. HER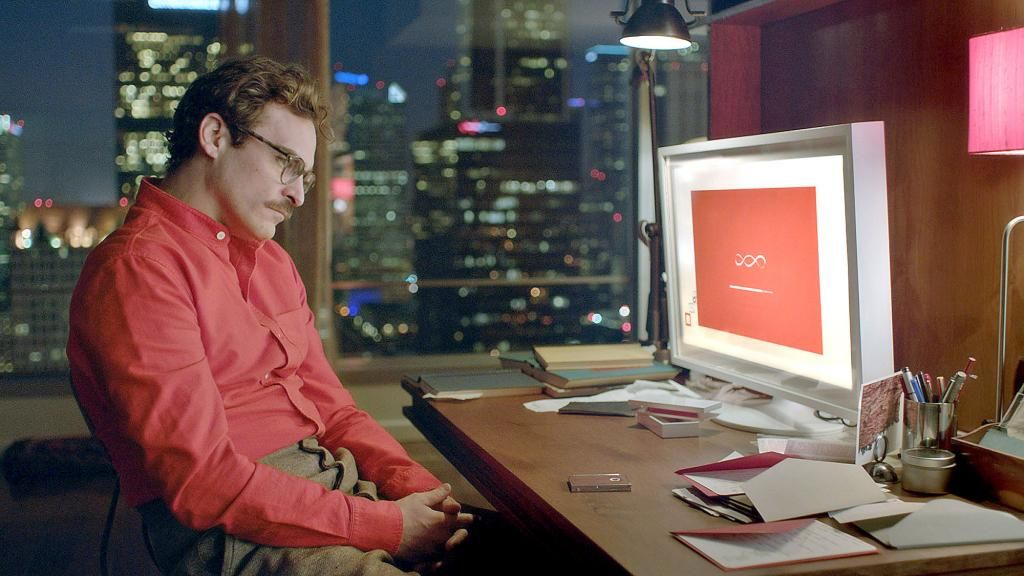 Spike Jonze's gorgeous, soulful and mesmerising story of a lonely writer who develops a romantic relationship with his artificially intelligent operating system, 'Samantha', is a love story for the digital age that's as bizarre as it is beautiful.  Joaquin Pheonix's performance as socially barren Theodore Twomley is layered and heartbreaking, yet arguably the star of the film is Her herself: Scarlett Johansson's voice.  Despite never appearing in physical form, she makes us laugh, cry and fall in love along with Theodore; an achievement which can't be overlooked.  The ideas put forth here have been tackled before, but rarely so effectually.
Watch the trailer Read my full review here
5. NIGHTCRAWLER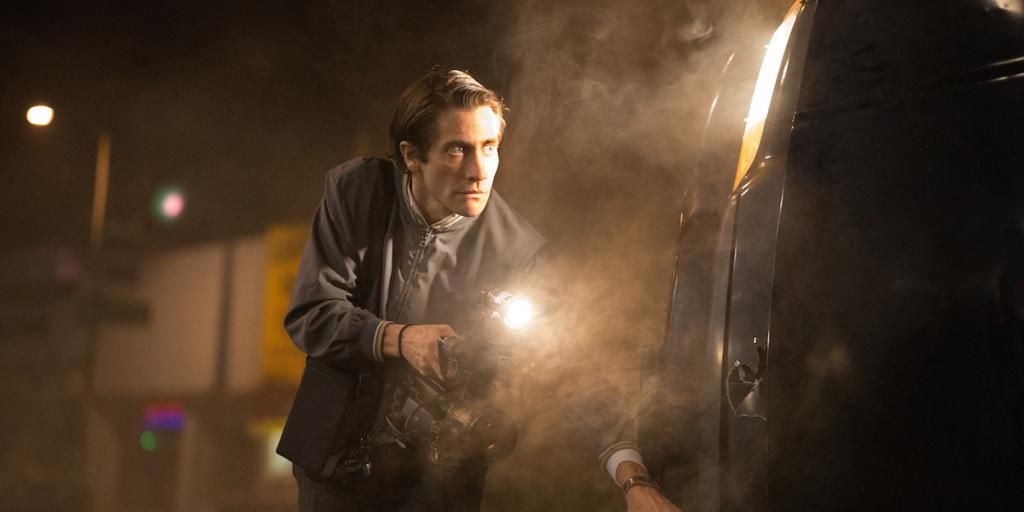 Jake Gyllenhaal gives the performance of the year as Lou Bloom, an enigmatic and introverted sociopath who discovers he has a talent for late night news journalism, or "nightcrawling".  As he trawls around LA searching for accidents and manipulating crime scenes, the subtleties and nuance of the character begin to reveal themselves and we gradually realise we're watching one of the most utterly terrifying and brilliant characters ever committed to screen.  Beyond that, Dan Gilroy's script houses some genuinely edge-of-your-seat moments and unexpected revelations, and the murky, streetlight-decorated visuals hearken to Collateral, the superlative example of nighttime in the city photography.  Broiling, slimy, riveting stuff.
Watch the trailer
4. GONE GIRL
If Lou Bloom is the best character of the year, Amy Elliot Dunne is his other half.  She's absolutely terrifying, and Rosamund Pike hones the craziness to a razors edge with a deft, unpredictable performance.  Ben Affleck's great, too, shaking off any residual notions of him being a wooden actor (which he has been in the past), but what Gone Girl really comes down to is David Fincher knowing how to direct one hell of a thriller.  Even book readers remain totally engaged for the lengthy running time as the foreboding narrative unravels to reveal infidelities and hidden agendas.  A dark, twisted love story essential for viewing, but perhaps best suited to watch outside of the holiday season…
Watch the trailer Read my full review here
3. WHIPLASH
You might look at Whiplash, a film about a guy who likes to play the drums, and think, 'how can it really be that good?'.  Well just trust me.  It really is that good.  J.K. Simmons and Miles Teller give electrifying performances as they lock horns in confrontations both psychological and physical, and the the razor-sharp direction succeeds in elevating this above just a story about drumming.  It will have you on the edge of your seat, contemplating the subtext and marvelling at the bravura all at once, only to top it off by playing out one of the most exhilarating final scenes you'll ever see.  Make sure to see it.
Watch the trailer Read my full review here
2. BLUE RUIN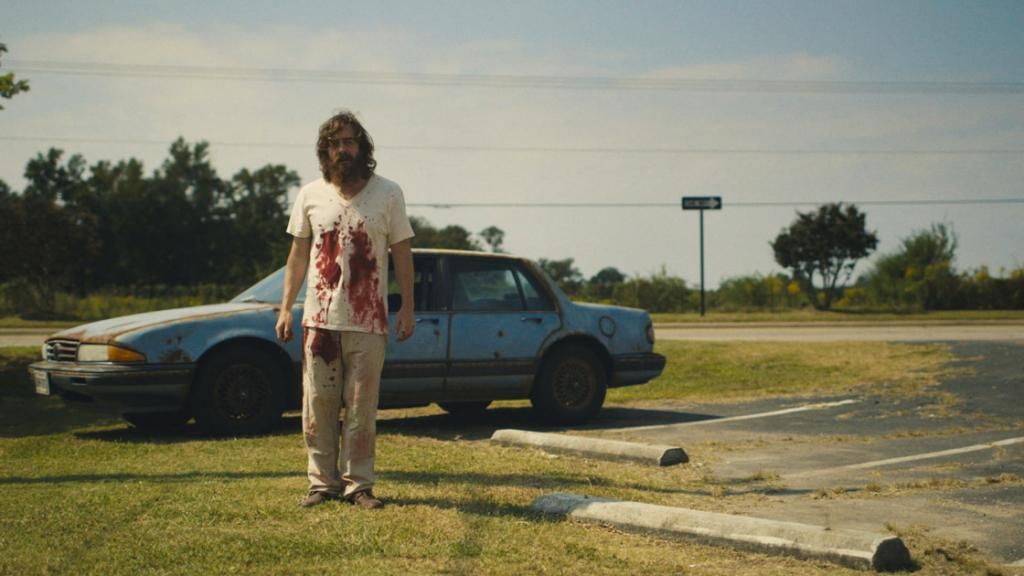 Blue Ruin sort of came and went without anyone noticing, which is a real shame because it's absolutely brilliant.  In what is a fairly straightforward set-up, the film finds Dwight, an apparent drifter living in a ruined car and breaking into homes to have a wash, seeking revenge on the man he believes to have killed his parents, only for that act of revenge to lead to an all out war between two families fuelled by hatred and injustice.  Darkly comic and utterly engaging, this should place high on the must-see list.  (It's on Netflix, American readers.  Go.)
Watch the trailer
1. BOYHOOD
Sweet, funny, profound, beautiful, thought-provoking, unique, captivating, truthful.  The idea to shoot a film over the course of twelve years is ambitious.  The idea to go through with it is mad.  But to come out at the end with a film like this is pretty much miraculous.  Richard Linklater, a man who doesn't make bad films as it is, has outdone himself this time as he transcends conventions and speaks to so many truths we have in ourselves.  Boyhood is a beautiful, inspiring, timeless masterpiece.  Two and a half hours is too short.