"There are no two words in the English language more harmful," J.K. Simmons tells us, "than 'good job'."  Spoken with such uninhibited truthfulness, the mantra of Terrence Fletcher, an eccentric, hot-headed conductor with a stringent desire for perfection, has the capacity to convince us he's right.  While many of Terrence's methods in gaining said perfection don't so much border the line as flat-out cross it (picture throwing a chair at a drummer for missing tempo), we can't help but hear at least a morsel of reason in his idea that if no-one was ever pushed to be great, no-one would be great.  And that's where Whiplash, writer/director Damien Chazelle's extraordinary story of drumming and determination based on his own short film, earns its colours: the audience's perpetually conflicting loyalty as we follow two obstinate, erratic characters.  We don't know whether to love or hate, to laugh or cry, and it's searingly compelling.
Essentially following something of a boxing movie formula, the film finds Andrew (Teller), a promising young drummer with a steely determination to be the best the world has ever seen, working his way up from the bottom after being spotted and trained by a seasoned veteran – enter Terrence Fletcher (Simmons).  We can't help but be reminded of something like Rocky as the young and determined talent is put through stringent work-shopping by the unbridled old trainer searching for the next sensation – in this case, jazz legend Buddy Rich – coupled with sweaty training sequences with visceral, bloody dilutions.  Expectedly, of course, the way in which Whiplash develops that formula differs completely from Rocky going the distance, not least through how Terrence and Andrew's relationship develops.  What begins as precarious doesn't take long to turn completely fractious as tempers rise and two large egos lock horns, and really, the whole film becomes a showcase for two dynamic, subversive and completely electrifying performances.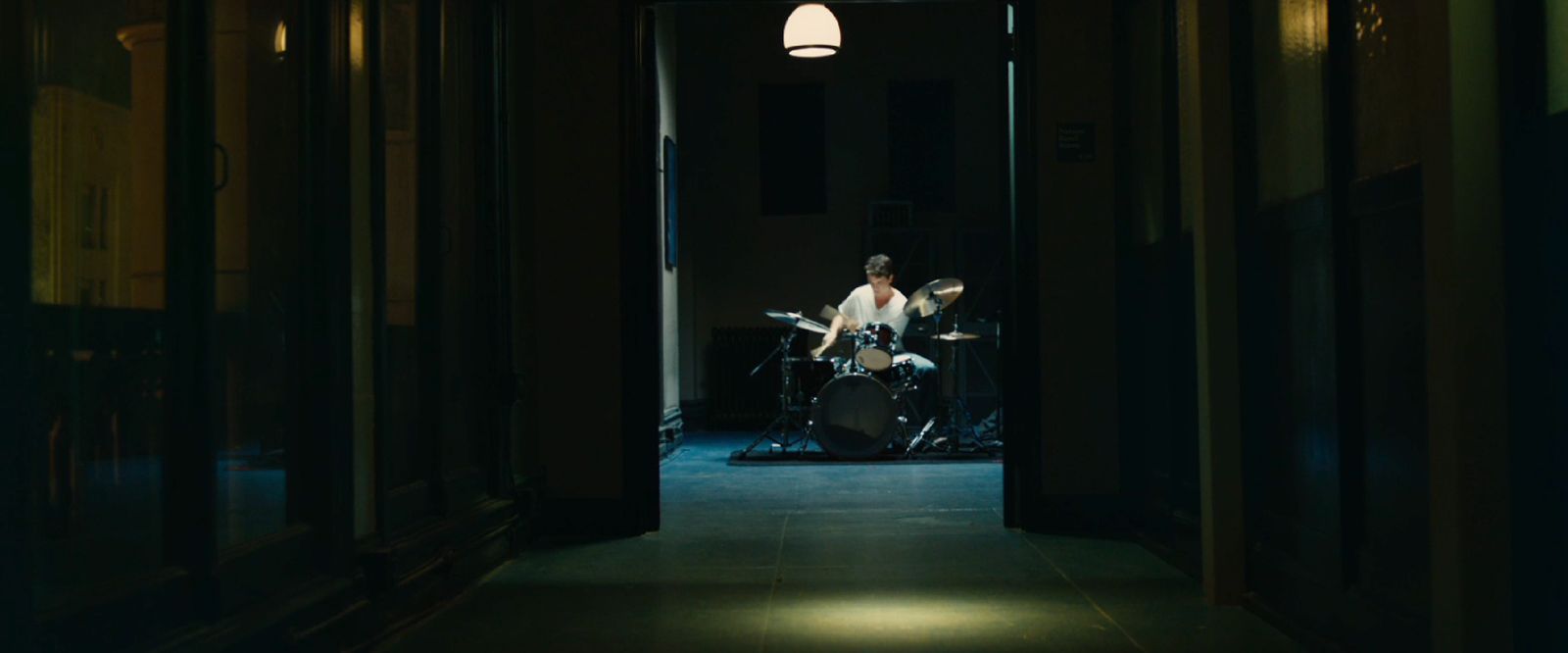 For Miles Teller, whose credits thus far perhaps haven't particularly stretched him, it's a star-making turn.  He truly throws himself into the character, submitting to every cut, bruise and bead of sweat as he bashes away on the drums under Terrence's pressure.  We can really feel the exasperation in his scrunched eyes and the burning in his arms as he soliloquises with the drum kit.  Equally, J.K. Simmons takes the opportunity to remind us what an incredible talent he really is with a completely embodied portrayal of a rich, multi-layered character.  Not unlike Jake Gyllenhaal's Lou Bloom in the recent Nightcrawler, Terrence is one of the most dynamic, puzzling and conflicting screen characters in recent years.  His demonstrably tough, aggressive exterior covers something underneath, something softer and more in line with normality… only for us to get the impression that still there's something else underneath that, something even colder and harder.  Yet as much as we attempt to unwrap him throughout the course of the film, we can't quite get to the core.  One of the great achievements of Whiplash is that between just the two lead characters we have ambiguity, inspiration, sympathy, humour, hatred…and pretty much everything else.
Deconstructed, Whiplash isn't even really about drumming. It's a subtle study of psychological (and physical) abuse and how destructive it can be on a young mind. As exciting as the physical confrontations are between Terrence and Andrew, to the point of the aforementioned chair throwing or a spear-dive takedown in front of a shocked audience, it's the psychological implications that leave the strongest impact. The film leaves us on the edge of our seats as well as pondering the subtext of destructive influences, and it's the marriage of the two that makes this such an utterly scintillating experience. It genuinely is breathtaking cinema.
Verdict:
With awards season heating up, there's a growing list of great films vying for attention, but this is really what cinema is all about. Brilliant performances, compelling drama, stunning cinematography, nuance, subtext, electrifying climax, blood, sweat and tears. Whiplash has it all. For those of you who cherry pick your cinema visits, make absolutely certain this is one of them.
★ ★ ★ ★ ★
Read his review on Flickering Myth